GMHBA Stadium Redevelopment
The fifth and final stage of the Kardinia Park redevelopment will see a new two-tier 14,000-capacity northern grandstand replace the existing Ford Stand and Gary Ablett Terrace. Once complete, the Geelong stadium will seat 40,000 spectators. Work will get underway following the 2021 AFL season in September and be completed prior to the 2023 AFL season.
Stage 5 Features:
A new grandstand at the northern end of the stadium, increasing the overall capacity to over 40,000,
A new indoor cricket hub to be located between the stadium and the railway line,
A new entry plaza to be established adjacent to Moorabool Street and the north of the stadium, and
New professional and community sport changerooms and facilities
Progress Photos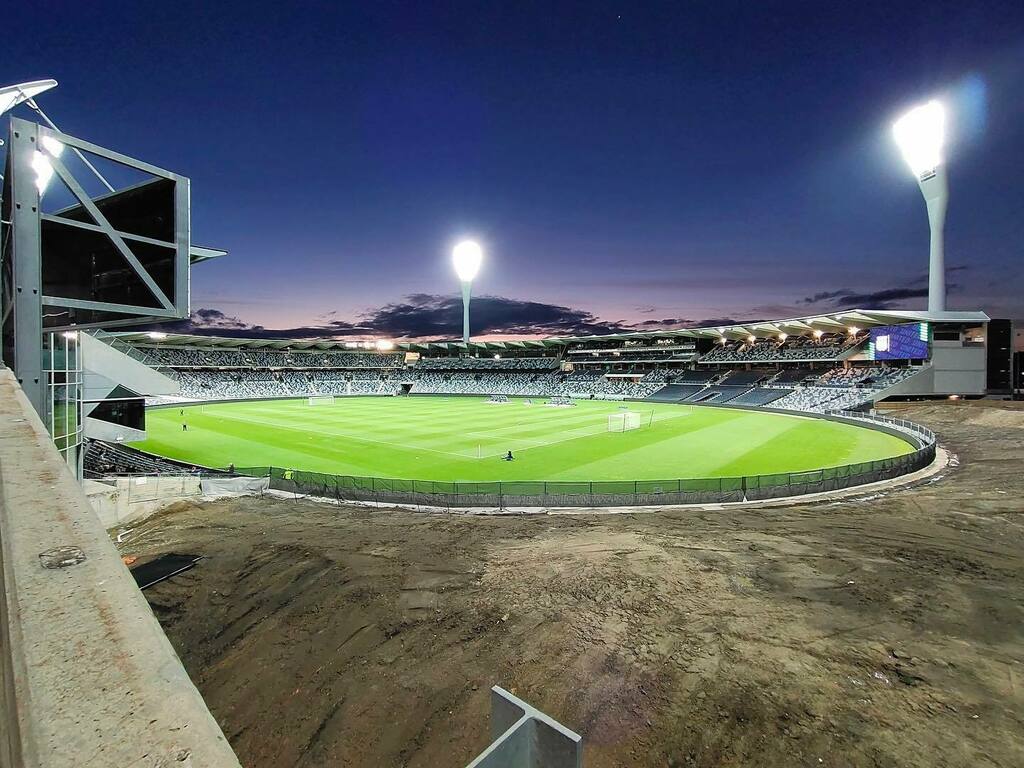 PREVIOUS STAGES
Stage four of the redevelopment saw the construction of a new grandstand to replace the old Brownlow and Jennings stands, increasing capacity by 2,500 to 36,000.
The third stage of the Simonds Stadium saw a new southern grandstand built to increase capacity to over 30,000. The was completed in mid-2013. Following this, lights were installed at the ground to allow for night matches.
The second stage of Simonds Stadium's redevelopment included the Past Players and Ross-Drew Stands coming down to make way for a state-of-the-art sports and grandstand facility.
Work was completed in early 2010 and costing $30 million, this new complex will see the stadium capacity increase to accommodate 30,000 supporters and house:
State-of-the-art sports science facility and gymnasium
Club administrative offices
Function room facility to cater for up to 300 guests
Fifty new open air corporate boxes
New executive hospitality suites

STAGE ONE
Geelong FC unveiled a $25 million plan to give the local community a 21st century stadium and community facility.
Key community benefits from the new master plan include:

- A new 6000 seat Eastern Grandstand including a 700 seat banquet/conference facility and fully-equipped media centre;
- New Geelong Sports House complex (share administration complex for local sporting bodies);
- New entry pavilions;
- Extending the Brownlow building to create the elite training gymnasium for the region;
- New stadium perimeter fence;
- Development of a Sporting Boulevard and extensive landscape upgrades around the stadium;
- New public address system;
- New electronic scoreboard.

The new stadium will have a capacity of 28,000, the same as the old venue, but with a greater comfort level and the ability to be used more widely by the general community.

JANUARY 2005

DECEMBER 2004