Amongst all the euthoria of the Swans premiership, etc, forgot to post this until today. It was reported on ch10 news last night that the Swans had presented their plan to Parks Victoria - apparently requires $8m, of which $4m to be raised privately, and $4m from the gov't. Don't really know any further details. The following was in last weeks HUN, prior to the submission -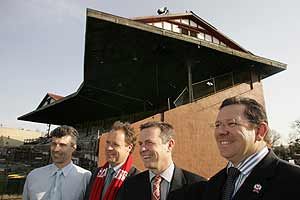 Save the stand
: Chris Bracher, Rob Pascoe, Chris Dow and Craig Meade want to save the old South Melbourne grandstand.
Picture: Mark Smith
Bloods to make a stand
Geraldine Mitchell, urban affairs reporter
22sep05
THE Sydney Swans are desperately trying to save their historic South Melbourne home ground's grandstand from demolition. Supporters are calling on the State Government to make the restoration of the Lake Oval grandstand a priority as they prepare to celebrate a possible Grand Final win at the ground this weekend.
A syndicate, including high-profile Swans officials such as Melbourne manager and former player Tony Morwood and director Rob Pascoe, has been formed to save the stand. Supporters fear an agreement with Parks Victoria not to demolish the stand could run out at the end of the year and pave the way for bulldozers to move in.
Campaign spokesman Chris Dow said the 79-year-old stand had been left to fall into disrepair by its landlord, Parks Victoria. A slogan, "It's Time -- Go Bloods", painted on the side of the building this week, has been the only addition since the club moved to Sydney in 1982.
Mr Dow said the restoration could cost between $4 million and $8 million but the club was willing to negotiate a deal with the Government to help fund it. "We're working on a formula that will cost the Government the least amount of money but we just need a commitment from them to say, we're in and we're a team," he said.
Fellow supporter Craig Meade said a proposal to renovate the stand was awaiting government support. It includes housing the Sydney Swans' Melbourne office and a museum of the South Melbourne football and cricket clubs, as well as charitable and non-profit organisations from Port Phillip Council and junior sporting organisations.
But Parks Victoria spokesman Alex Holt said the Government was waiting to receive a viable plan to save the stand. Mr Holt said there was not an "absolute deadline" to determine the future of the stand. "But if we don't receive a viable proposal within a reasonable time, all options will be explored," he said.