CarlosA wrote:
I've been to many a GF but unlesss St kilda can pull of a miracle and get there sh*t togehter i will not attend this years GF for the first time since 1998 and will give my ticket away.

The event is a joke packed with Theatre Goers (such as myself) and the atmosphere is the worst i've seen for a crowd its size. When i was brought up i was alway lead to believe that the GF was the best sporting event in Australia but i now disagree.

I hope io nthe future the AFL stop dishing out tickets too sponsors and think of the real event and the real fans when sellign tickets. The fact that sometimes members of competeing teams can't get tickets is laughable.
Mate, I thought that. 1996 was frigging embarrassing But the atmosphere at last year's game was absolutely excellent. Lots of chanting from both sets of fans. Club members all in allocated bays. I was really surprised how well organised it was to be honest.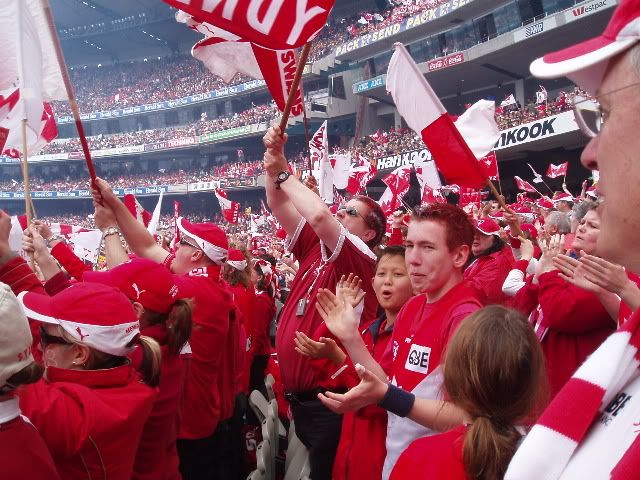 Compare that to the NRL who sell half their GF tickets half way through the year so as not to risk having empty seats on game day. If we have Melbourne & Brisbane in the GF, watch for seats to be able to be bought on the day of the match. Or the World Cup who sold 94% of tickets to frgging sponsors!
How to solve the problem. Limit tickets to MCG Members & don't give tickets to any of the clubs not involved in the game.
JF
PS:-No passion at the AFL 2005 GF? Check this pic out!