Just back from the USA today, spent about 2 weeks in Milwaukee and made sure I went down to the local Baseball stadium - Miller Park. A very impressive stadium, holds 42,000, has a very unique retractable roof and other unique features. Opened in mid-2001 with a retro-look.
I went their on 2 occassions, the first was on a Sunday where we went to get dinner at TGI Friday's which is located within the stadium and overlooks the field. Here's Miller Park from the outside:
Also, what you can see in the inset in the above photo is where the original stadium once stood. It has been converted into a mini field. The home base marks the exact spot.
This is taken from TGI's and shows behind the home base and the centre-point of the huge roof.
The following night I went to my first Baseball game. The Milwaukee Brewers (currently on top of the ladder) versus St Louis. Here's a photo pre-game which shows the huge roof. It's made up of 7 sections, 5 of which slide in to cover the field.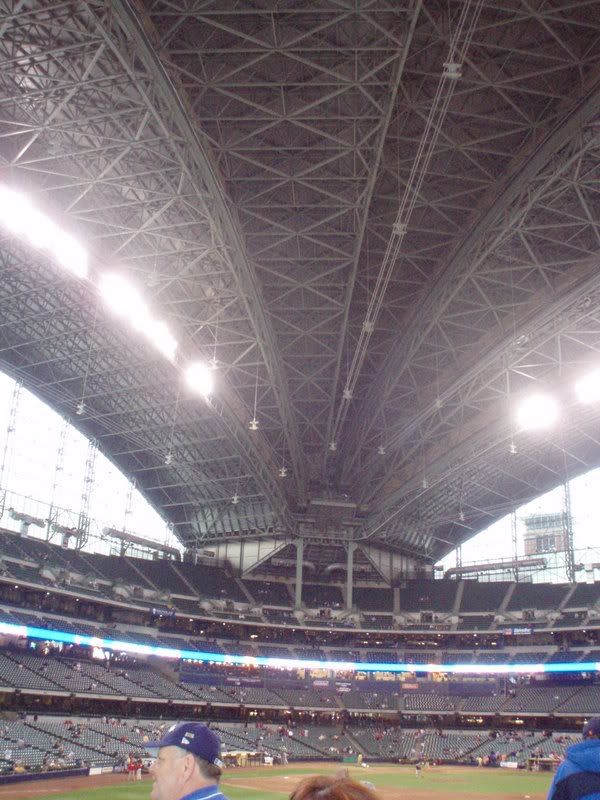 Picture of the field. Love the LCD advertising on the right-side. Crowd wasn't huge, a bit over 20,000. And see the left-side in the middle, these pannel's open up to let air into the stadium.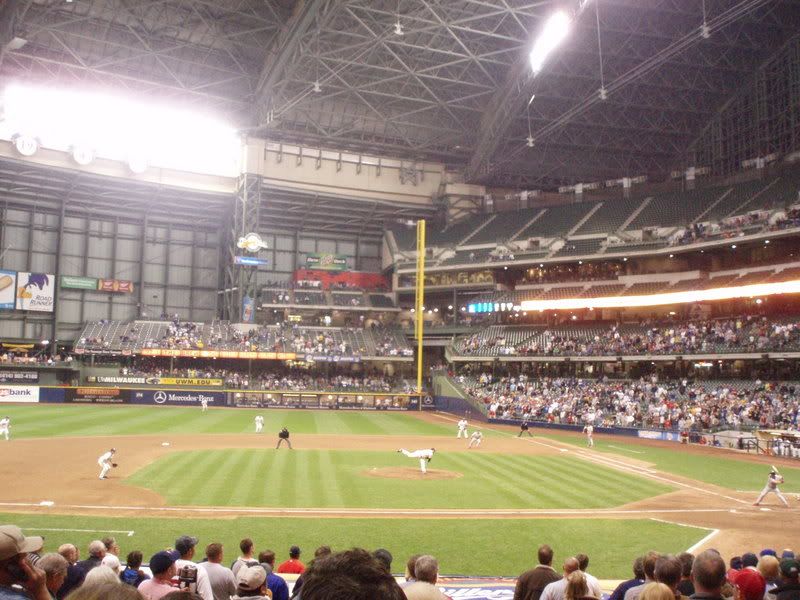 The fence on the left-field contains a large LCD screen which dispays scores from other games amongst other things. Above this is TGI Friday's, and all the rowdy fans seem to sit in the seats above. The glassed-in area above that is the '300 Club'.
Fireworks signalling another Brewers win!
Was actually quite an entertaining night. Plenty of beers, music and promotions between the innings, etc..
For those who don't know, Miller is a major beer in the USA and is brewed just across the freeway from the stadium, also hence the name of the team. Find out more about the stadium here:
http://en.wikipedia.org/wiki/Miller_Park